Oppo FRP Tool is a free tool made by Tech India Youtube channel to Bypass Google Account lock from any Oppo Android Smartphones & Tablets without following any complicated steps. You can use Oppo FRP unlock tool to unlock your phone if you have lost the last active Google ID & Password after the factory reset.
Many Oppo users now facing FRP lock problems just because they forget their Google Account ID & Password after the factory reset. In case, If you also facing the same FRP lock problem and looking for something on the internet to unlock your phone then the Oppo FRP tool and Oppo Emergency FRP code surely help you.
What is FRP?
Google has added a new security feature call FRP (Factory Reset Protection) on 5.1 Lollipop and the higher versions of Android. when a user buys a new smartphone and added a new Google Account on it, then the FRP will active and it prevents any user to use the device after the hard reset. You need to log in with the Samsung pre-synced GMAIL ID and password to use your device. In case, if you hard reset your device and you forget the email ID and password then you have to Bypass Google lock from your device.
After the Factory Reset, You will be facing the FRP lock problem with your Samsung device. If you try to enter a different GMAIL ID and password you can't access the device. The FRP process will work and blocked your login. In this situation, you need a bypassing tool, so here I share the best XSoft FRP Unlock Tool that helps to unlock the FRP verification by resetting the FRP storage.
Here you can easily download the tool from the below-given link. I also share proper instructions on How To Use Oppo FRP unlock Tool to unlock. but at first, you have to install the Android USB Driver before you trying to use this tool.
OPPO FRP TOOL SUPPORTS ALL ANDROID 5.0, 5.1, ANDROID 6.0, 6.1, ANDROID 7.0, 7.1, ANDROID 8.0, 8.1. 9.0
Read More: Download FRP Tools (ALL FRP Bypass Tool & APK)
Download Oppo FRP Unlock Tool
Here I share the best working mega drive or Google Driver link to Download Oppo FRP Tool from here. Make sure, You have to install Oppo USB driver before you use it.
NOTICE: YOU'VE ALREADY DISABLE YOUR ANTIVIRUS OR WINDOWS DEFENDER SOFTWARE, OTHERWISE, OPPO TOOL NOT WORKING PROPERLY ON YOUR COMPUTER.
File Name: FRP UNLOCK TOOL 2018.exe
Size: 108 MB
Compatible OS: Windows
Type: .exe
How to use Oppo FRP Unlock Tool
Firstly, Download the FRP Unlock Tool 2018 & Unzip it on your computer.
Run the FRPunlocktool2018.exe.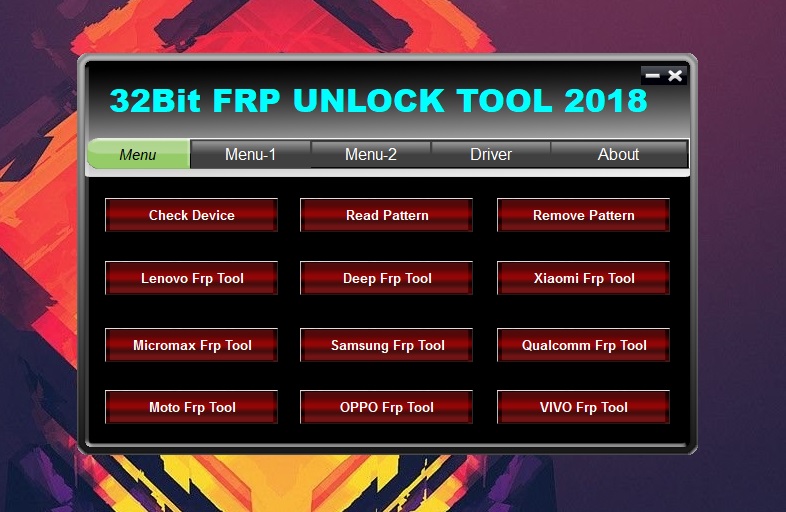 Turn off your Oppo phone & Put your device into the Fastboot Mode.
Once your Oppo phone is connected to the computer.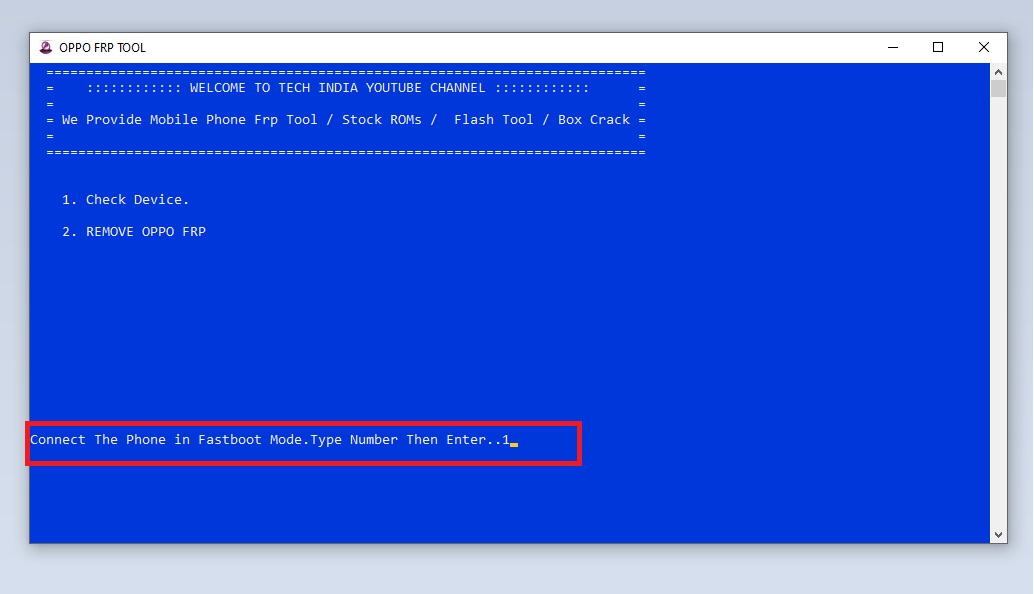 Press 1 & hit enter in Tool.
Then Press 2 & Hit enter, Now you have to follow the FRP Bypass Procedure to remove the FRP lock from your phone.
That's it.
Read More: SPD FRRP Tool to Remove FRP lock From all Spreadturm Phones
Here I share the best Oppo Tool for all Oppo smartphones it will help you to unlock the FRP protection. If you have any queries or suggestions relating to this topic you can let me know in the comment section below.