MTK FRP Tool is a small utility program made by SPRT Team that helps to Bypass Google Account lock from any MediaTek phones & tablets. The latest version v1.0.5 is now supporting Fastboot mode for FRP removal. So if you are looking for an All in one MTK FRP Bypass Tool for your MTK powered phones then you can use SPRT MTK FRP Tool. So download the tool from below.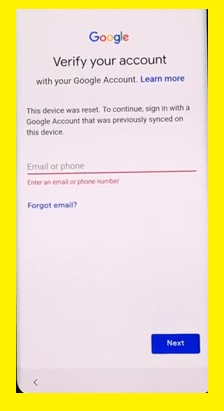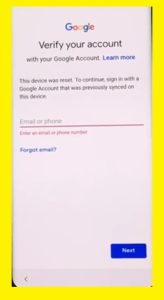 Google has added a new security feature call FRP (Factory Reset Protection) on 5.1 Lollipop and the higher versions of Android. when a user buys a new smartphone and added a new Google Account on it, then the FRP will active and it prevents any user to use the device after the hard reset. In case, if you hard reset your device and you forget the email ID and password then you have to Bypass Google lock from your device.
Nowadays, Google updates its security patch every two months and fixed all old processes of bypass Google Account verification. That's why its almost challenging with every updated version to bypass the google account verification in every phone & model.
MTK FRP TOOL SUPPORTS All ANDROID 5.0, 5.1, ANDROID 6.0, 6.1, ANDROID 7.0, 7.1, ANDROID 8.0, 8.1.
Download MTK FRP Unlock Tool
Here I share a working link to download SPRT Tool on your computer or laptop. But make sure to download and install the MTK USB driver first before you trying to unlock the FRP lock with this FRP tool.
Once you download the tool, then follow the below process to install and work with this tool.
How to Unlock MediaTek FRP using MTK FRP Bypass Tool
Device Supported: MTK MT6572, MTK MT6580, MTK MT6592, MTK MT6735, MTK MT6737, MTK MT6750, MTK MT6753, MTK MT6755, MTK MT6795, MTK-MT6779V,MTK MT6775, MTK MT6765, MT67XX, MTk MT6755 and Many more.
Download and Install the MTK FRP Tool on your pc.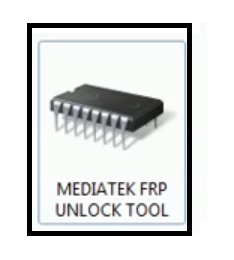 Step 1: Run the tool.
We need two files to bypass MediaTek devices.
MediaTek Scatter File.
FRP Format Partition Address.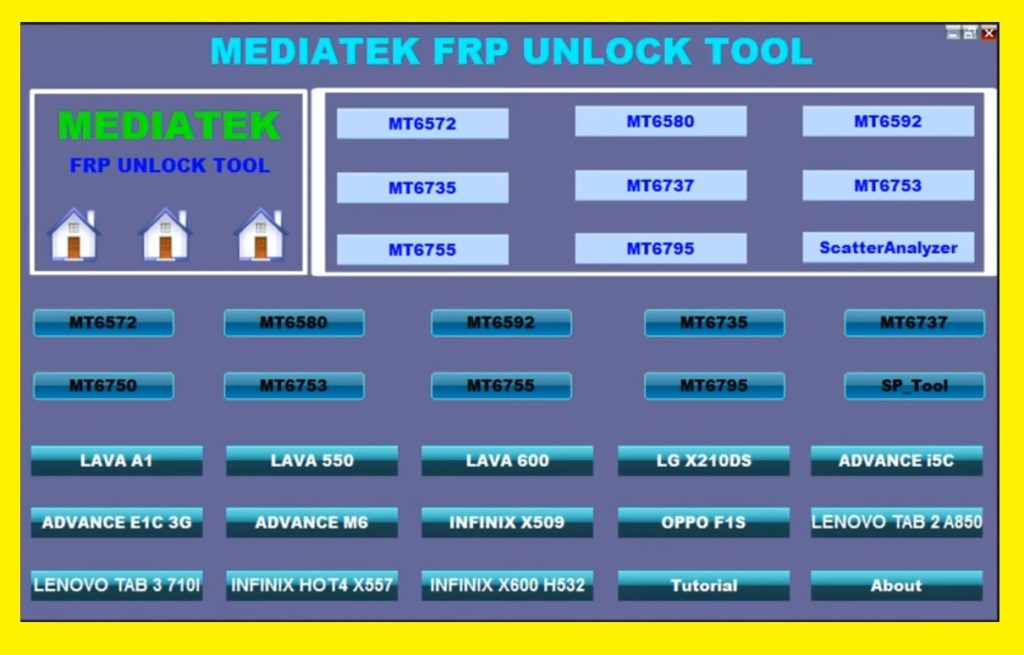 Firstly, click on the Scatter file tab to save the scatter file to remove FRP from your device.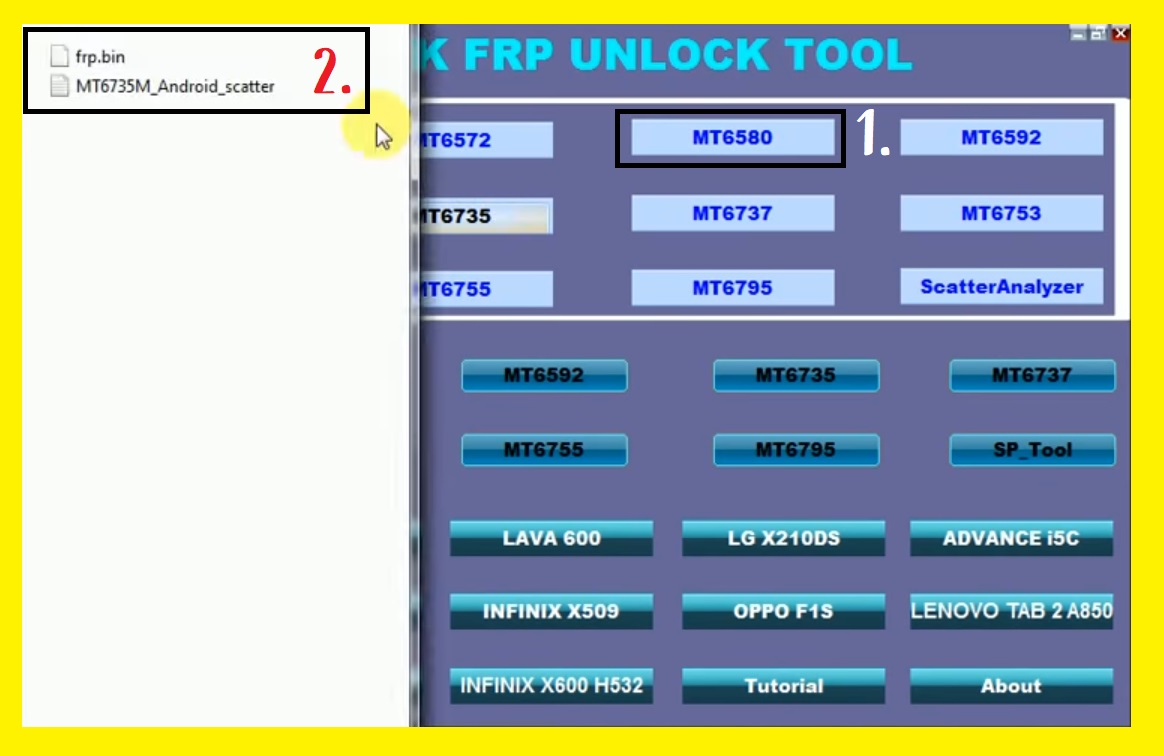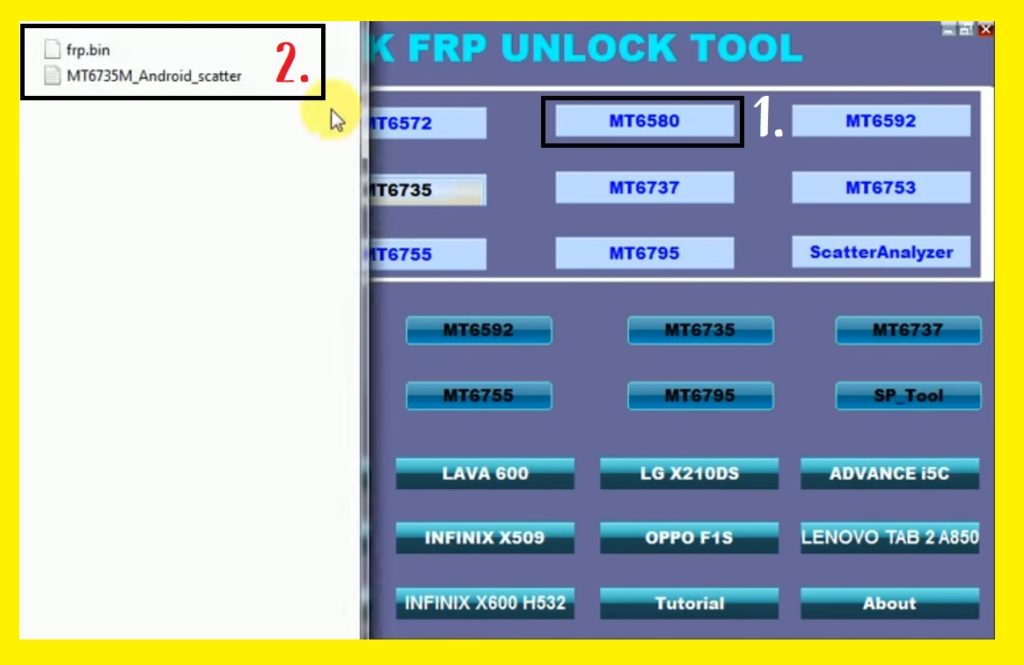 Remember that, you need to choose the right CPU version cause if any wrong happened your device will be bricked.
If your device has MT6755 chipset then you have to choose the MT6755 Scatter file button and save it on your computer or laptop.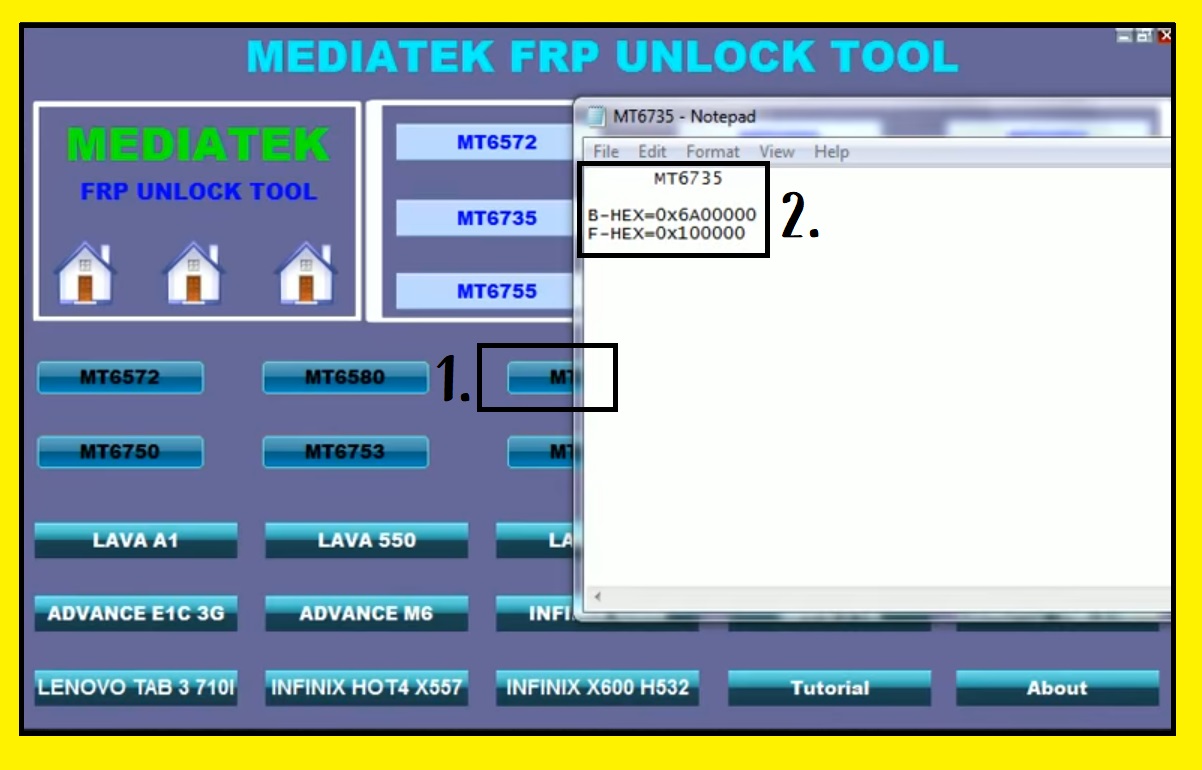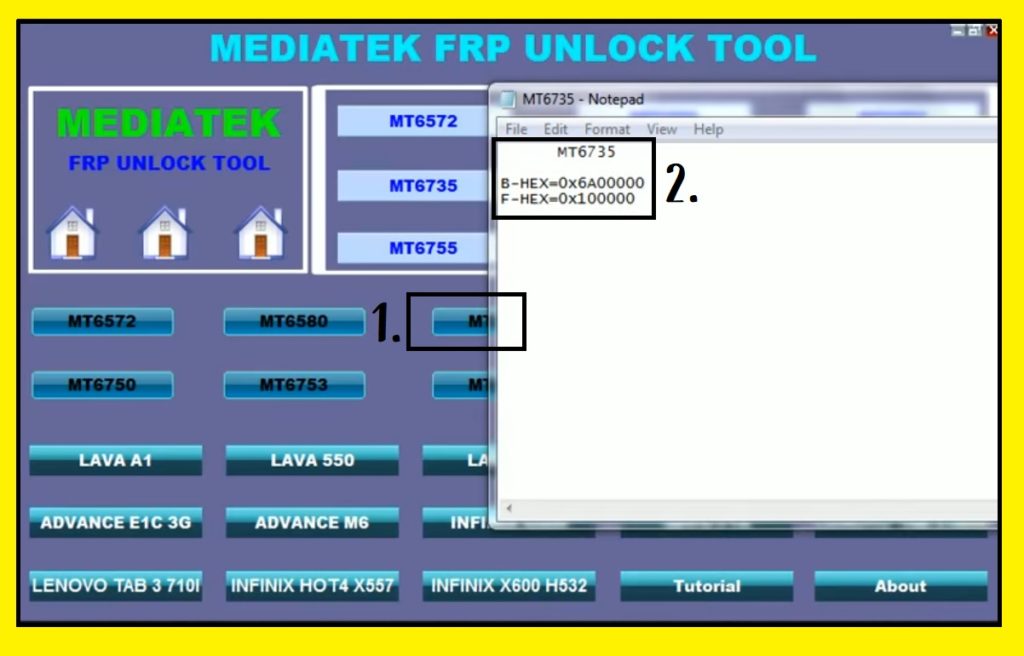 Now click on the same MT6755 FRP Address button to get the FRP Code.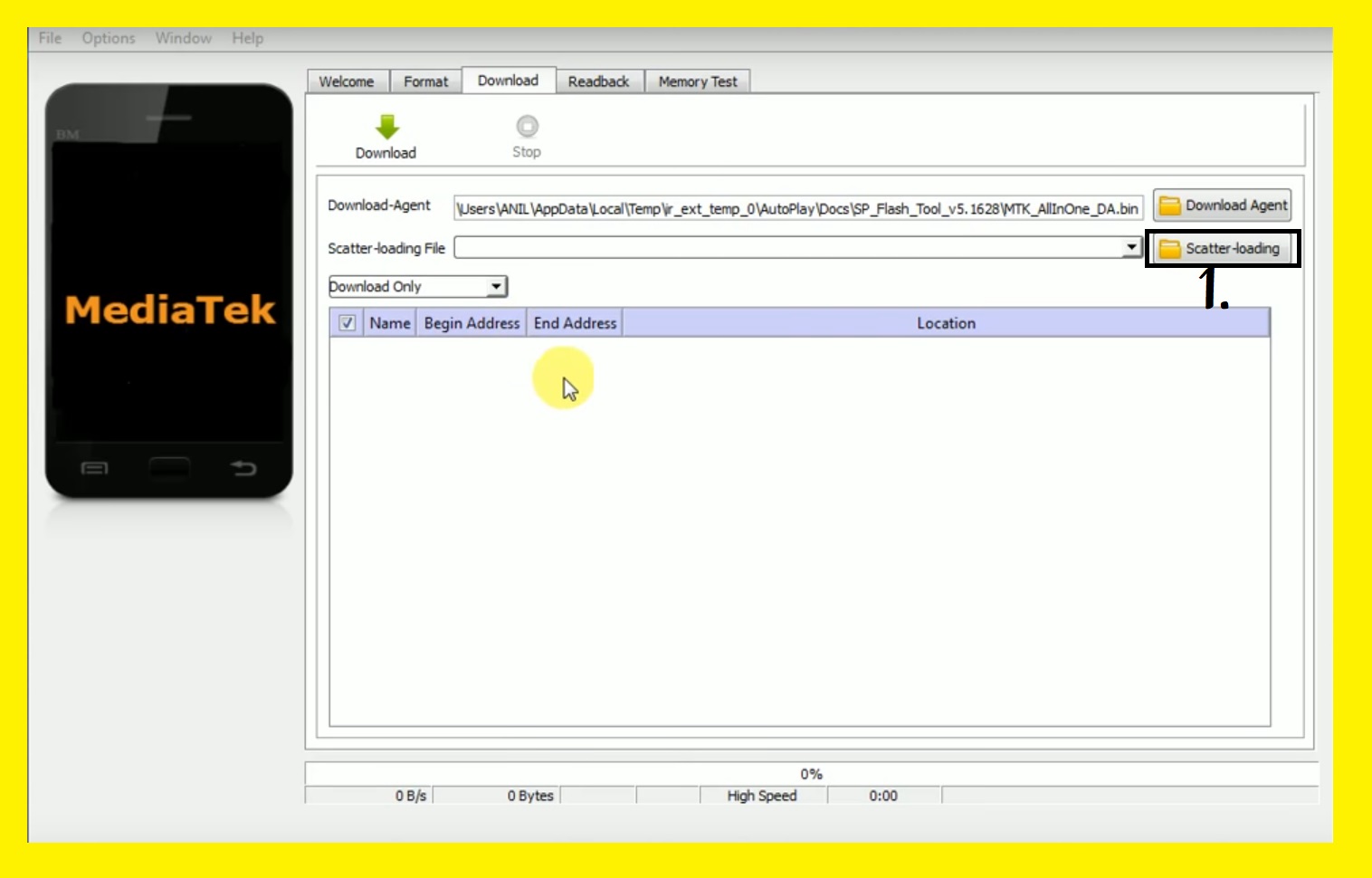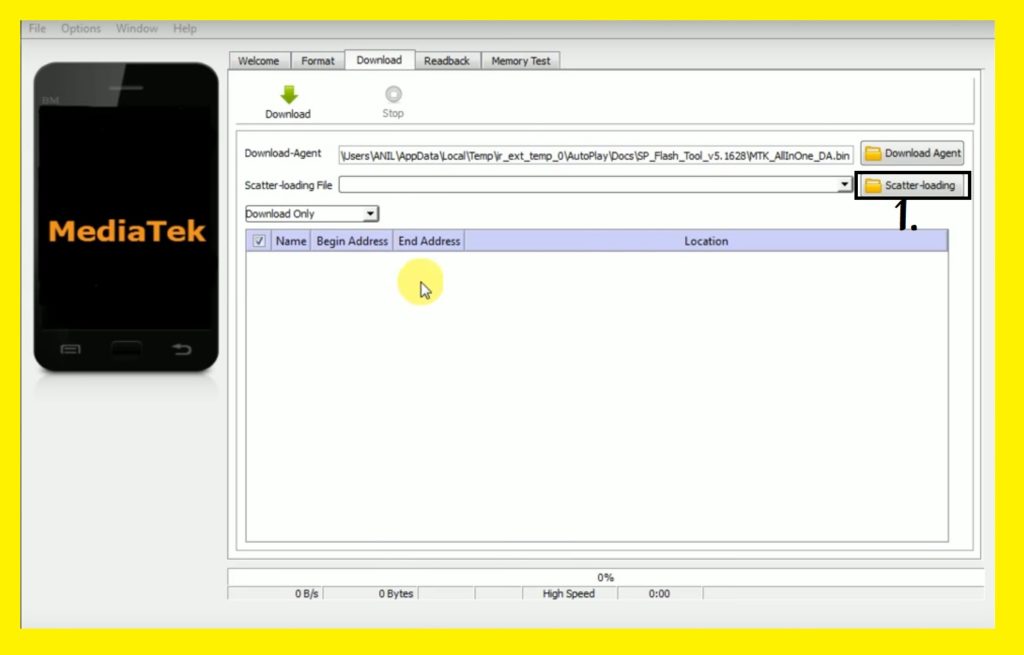 Run the SP Flash tool on your PC.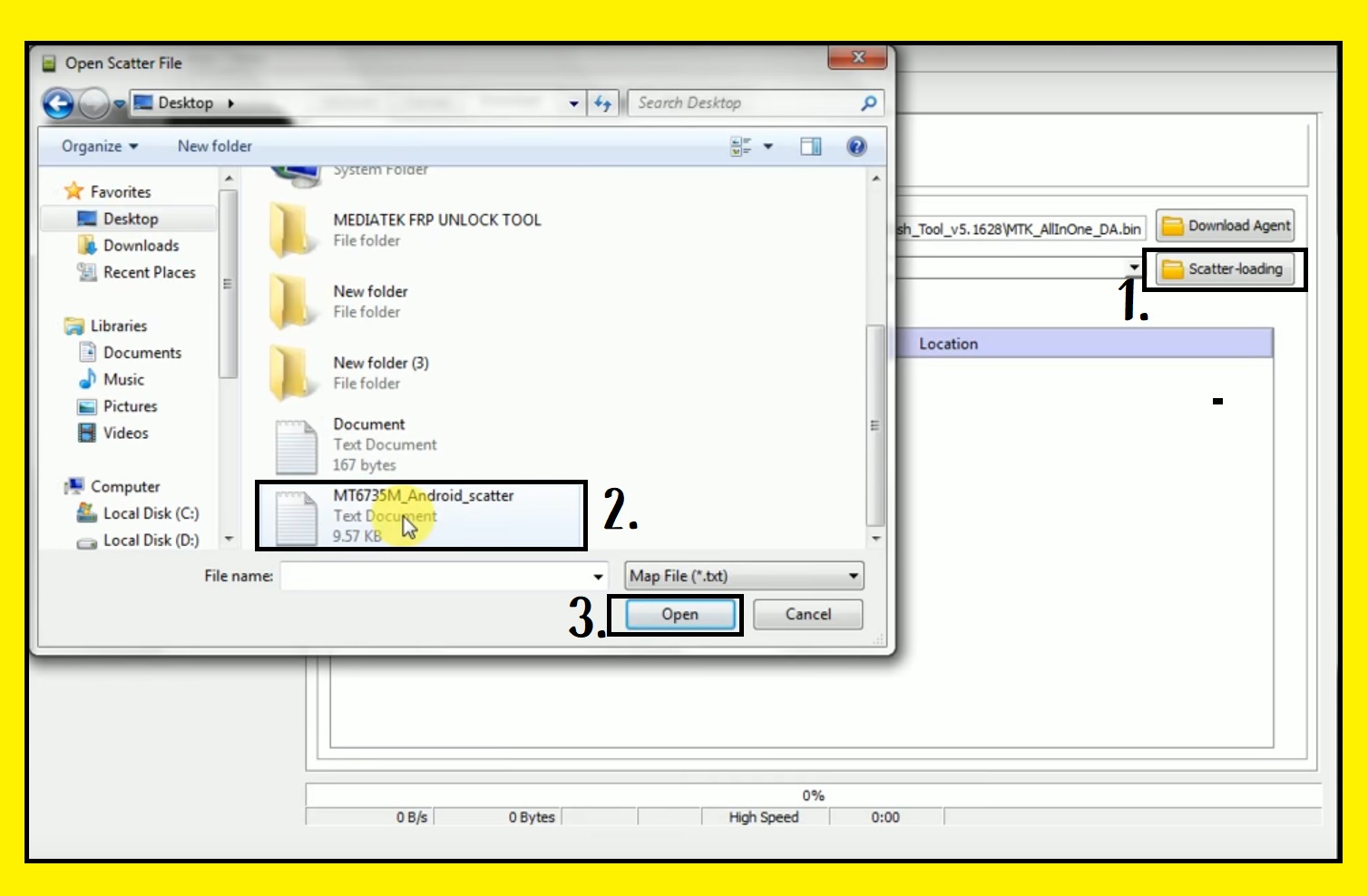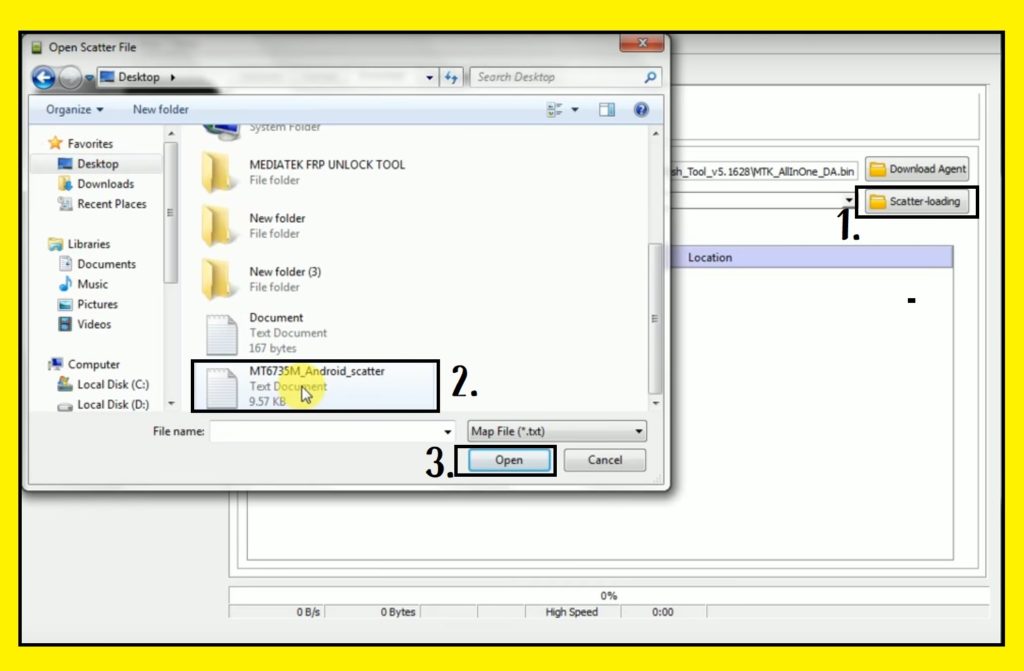 Then click on the Scatter File button and give the file path of the Mediatek MT6755 Scatter file.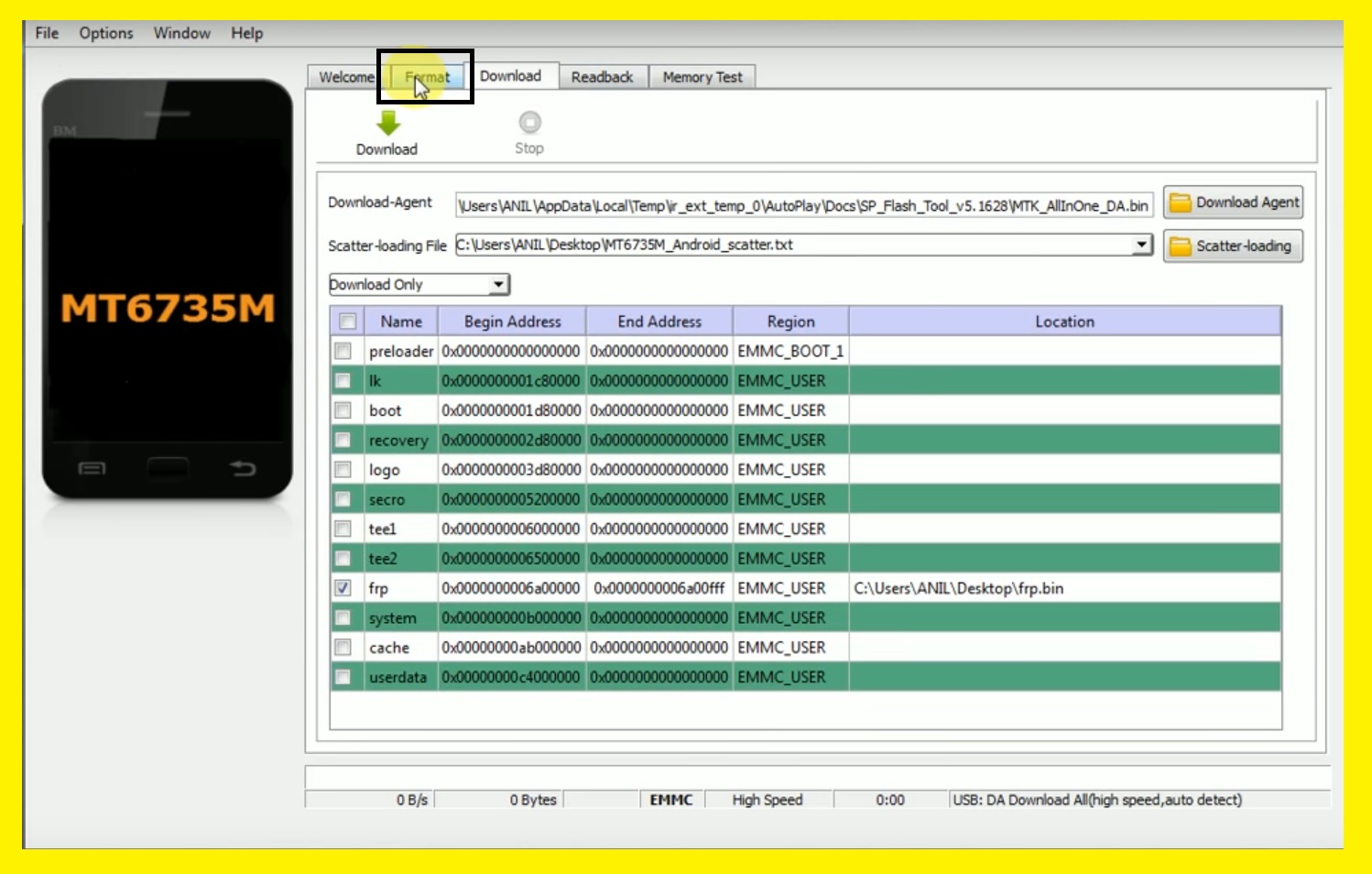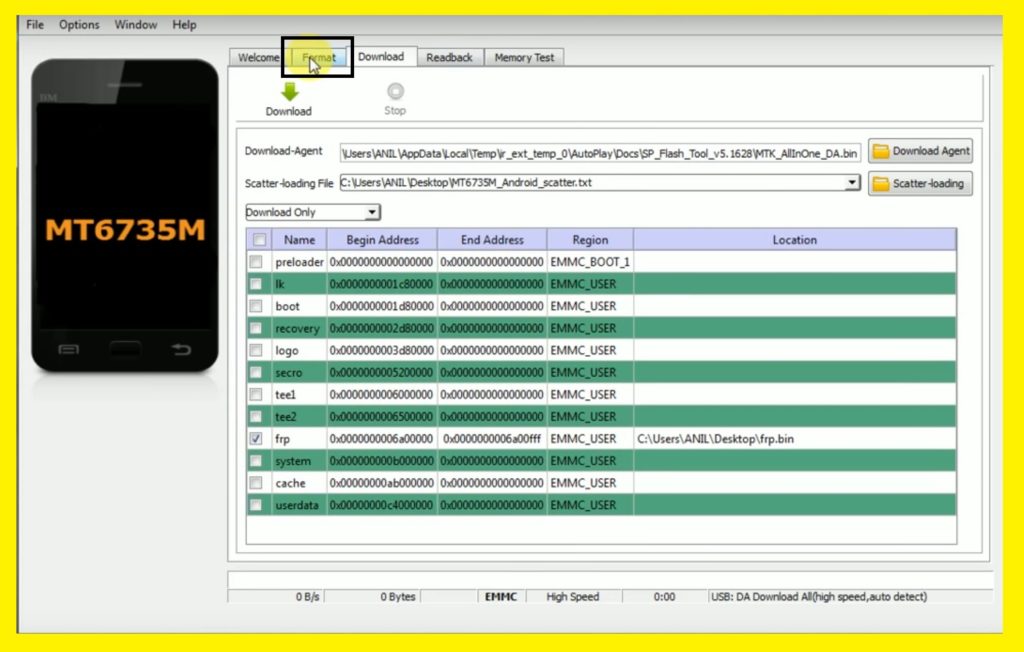 Open the MTK FRP Address.txt.
Begin Address: Copy 0x6A00000 & paste.
Format Length: Copy 0x100000 & paste.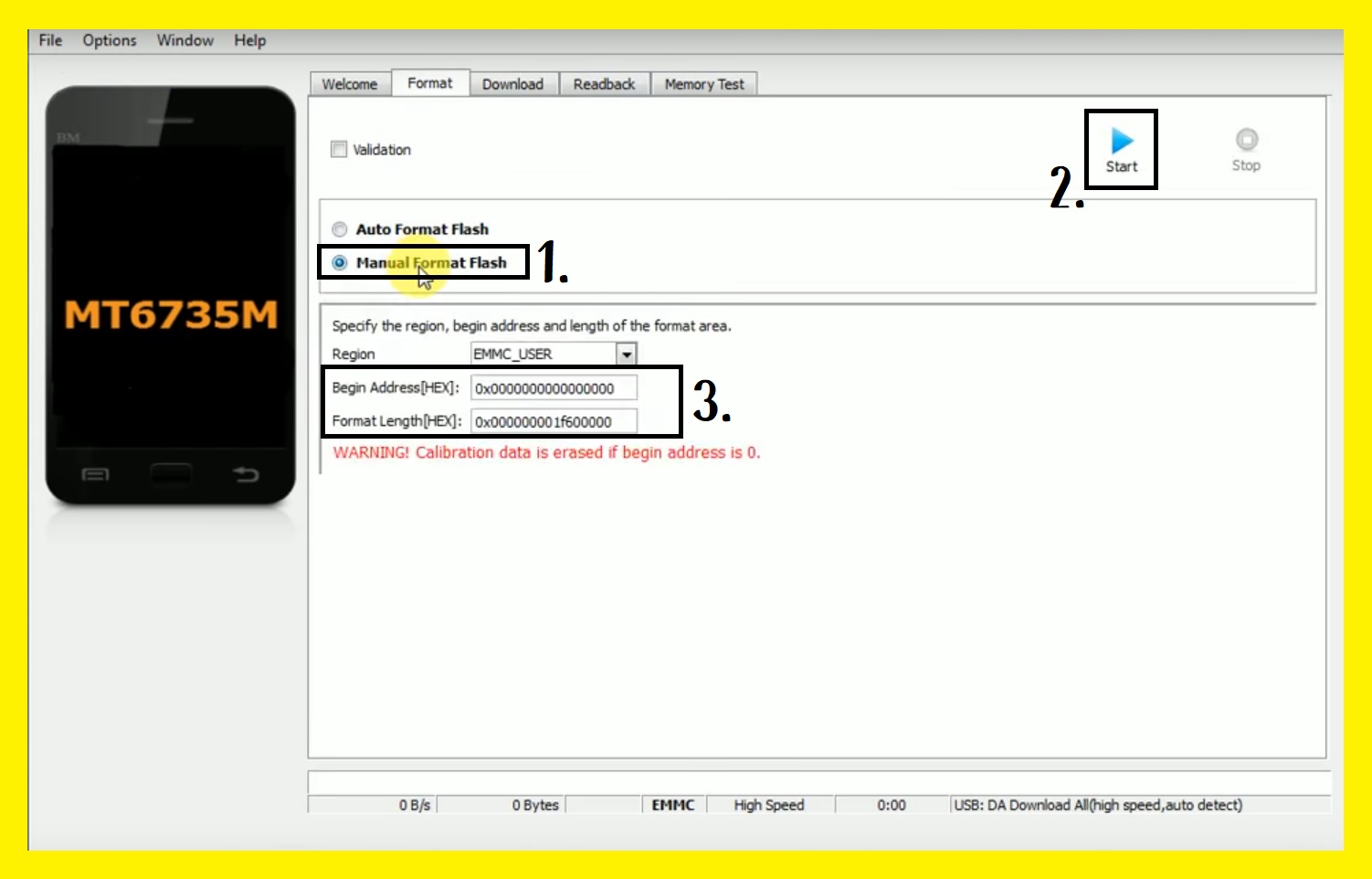 Final Step: Click on Start Button.
Now you need to Power off your device first.
Then Press and Hold Volume Down + Power Key the same time and connect the USB cable.
Now you can check on the SP Flash tool, your MediaTek devices successfully detected.
The FRP process will automatically start.
Wait for a few times to finish.
Once Finish then disconnect and power on your device.
That's it.
you have successfully remove FRP lock from your MediaTek Device using MTK FRP Tool.
Read More: FRP Bypass Tool (ALL FRP Bypass APK)
Alternatives:
Here I also share some alternative FRP tools for MediaTek smartphones. It also helps to Bypass Google Account lock from various methods. You can unlock FRP lock using Android Fasstboot Mode. So check below to know more about SPRT MTK FRP Tool.
#1. SPRT MediaTek FRP Tool v1.0.5 (MTK FRP Tool Fastboot)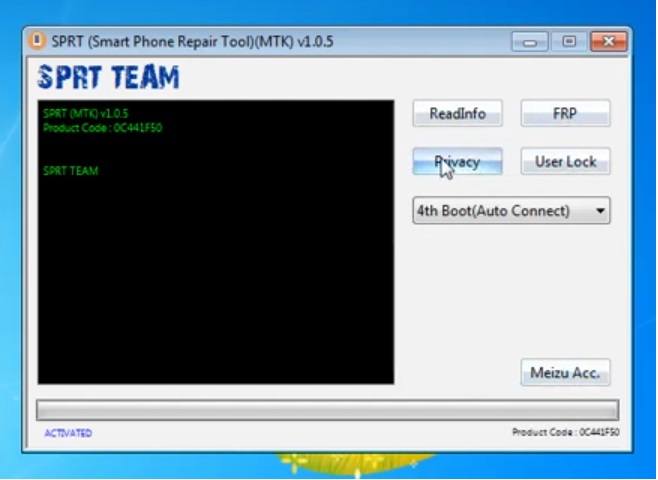 SPRT FRP tool is a free MTK repair tool that helps to unlock Google Account from any Mediatek devices. Also, the SPRT tool helps to bypass FRP lock, Read device info, Privacy lock Remove, and user lock remove. So if you are interested to use this tool then you can download the tool from below.
Features:
Remove FRP in Fastboot Mode
Bypass FRP lock in Download Mode
Read Device Info
Erase User Data
Remove Privacy Protection Lock
Supported too many MTK devices.
How to use SPRT MediaTek FRP Remove Tool?
The FRP remove process using the SPRT FRP tool is a little bit complex but if you follow this method carefully then you can easily unlock FRP from your device in Fastboot mode.
Put your device into the Fastboot Mode By Press & hold Volume UP + Down until you see Android recovery mode on your device.
Then select Reboot to Bootloader using volume up and down keys.
Open the SPRT FRP Tool on your PC.
Connect your device to PC.
Select the FRP option.\
Select the Boot version (DA).
Then select Fastboot mode.
Now it will automatically find your MTK device.
That's it.
Now power on your MTK Device and check you have successfully removed the FRP lock from your device.
Final Words:
Here I share 2 best MTK FRP Tool for all MediaTek smartphones that will help you to unlock the FRP protection. If you have any queries or suggestions relating to this topic you can let me know in the comment section below.